Rafa Peletey
Singer and composer Rafa Peletey started playing guitar and studying classical music at the age of 7. He has been with many bands, all of greatly varying styles, as bass player,guitarist,keyboardist and singer.
He has shared the stage with artists such as Al Jarreau, Lou Reed, The Christians and Eric Burdon to name but a few.
He is the proud grand son of the music conductor Jesus Etcheverry, who has recorded nearly seventy albums of the classical lyrical repertoire for the Phillips label.
For several years Rafa was teamed up with Steve Norman, founder member of Spandau Ballet, composing and producing.
The compilation "A journey through Savannah, Ibiza smooth lounge", the production/composition for the italian quintet "Quintessenza" or Steve's own band "Cloudfish" are some of their collaborations.
In 2007 he started collaborating has a composer with lyricist Juan Mari Montés, one of the most prolific writer of the spanish market, who has published more than 500 songs, for the likes of top spanish artists like Ana Belén, Malú, Sergio Dalma, Jose Mercé, Loquillo y Trogloditas, Sole Gimenez, Amistades peligrosas, Los Chichos, Dúo Dinámico, Javier Ojeda or Cómplices between many others.
Two of the first songs of this collaboration will be included on the next album of David Zueras, one of the winners of the "Operacion Triunfo" TV contest.

He recently collaborated with producer Ingmar Hansch aka Ingmarlo for the label Movin' Sounds, providing vocal and guitar parts on three tracks of the second album of REAL XS and four tracks on the new DJ SUSSO (Space Ibiza) album, which has been released during the Summer of '07 on the compilation "La maison de l'elephant".
Currently Rafa Peletey is working on his own solo album alongside with Ingmar Hansch with the contribution as the Cuban guitarist Norberto Rodriguez (Juan Perro), Chris Lee, Manu Díaz González, singer Jude La Joia and bass player Matthäus Ullrich.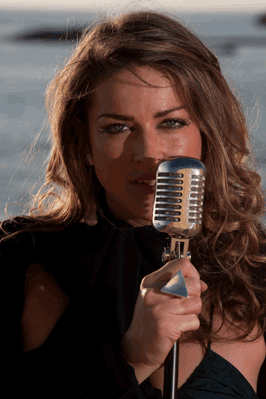 Jude La Joia (aka Jude Elliott) is one of the best Singers Ibiza has to offer. Her voice is very versatile and she is guaranteed to make your party that extra bit more special.
Jude is a professional singer eclectic in her singing styles she sings Jazz, Soul, Classical, Musical Theatre, and Freestyle all with ease! She trained in Musical Theatre at the London College of Music and Contemporary Music at Manchester Metropolitan University.
At 18yrs old Jude was a Soloist in the Sydney Opera House for the Openings of the Olympic Games, and has played in Musical Theatre in and around the UK, Since moving to Ibiza in 2004 Jude has been performing live and recording all over Ibiza, performing at private parties and Weddings for international stars; and creating, performing and recording with some of the worlds most talented and influential Musicians and Producers.
Jude currently performs as Lead singer in her own band, Jude La Joia
Norberto Rodriguez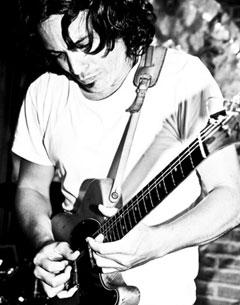 He is born in Cuba , resident on Ibiza and is on of the top 10 guitar players in Spain.
Chris Lee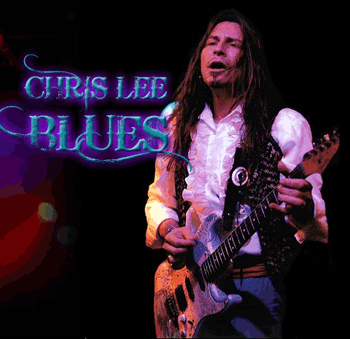 Chris Lee, has been a resident of Ibiza's live music scene for over 20 years. Born in Yorkshire, England, Chris came from a musical family, both his grandfather and father were pro musicians and inspired Chris to pick up the guitar from a very early age.
At the age of 15 he formed and performed with many blue's rock bands around the north of England. In the late 80s` Chris joined ''Angel of Hope'' from Nottingham, the band had Major interest from Warner's n CBS records and showcased gigs through out the UK. Chris has toured through out Europe, Canada and Japan and working as a session player, whilst living in Ibiza. Chris has performed with celebrity musicians such as RONNIE WOOD, SIMON KIRK, JIMMY PAGE, JASON BONHAM, MIKE OLDFIELD AND ERIC BURDON. Whilst working and performing on the island, Chris was involved playing at Ibiza Harley Davidson festivals with many of the islands rock bands ,,and has fronted'' the Jimi Hendrix anniversary concerts held on the island and Formentera.
Chris has performed at numerous events venues and festivals and has recorded with many of the islands Major talents such as the Ibiza's RAFA PELETEY. More recently Chris returned to his first love, playing the blues, and had big success in the USA. He will be returning back to Florida in march of 2011 , to start an extensive tour of the states to promote THE HODGSON AND LEE BLUES PROJECTS debut album LIVE IN DELAND. The tour will start at DAYTONA WORLD FAMOUS BIKE FESTIVAL.
Chris teamed up with Florida's premier blues man MUDDYHARP HODGSON, who has worked with MUDDY WATERS, BUDDY GUY, BB, KING ,BILLY COX and CANNED HEAT. Together with Muddyharp, Hodgson, Dan Walters and Billy Dean. Chris and the band were headhunted by Californian music promoter and film producer MICHEAL LOPEZ, who witnessed the bands performance at the ''Athens theatre '' which broke all box office records. ,Micheal Lopez is currently working with the band, who hopes to seek a Major deal in the USA in the near future.

Manu Díaz González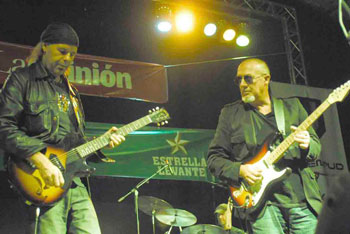 Manu Díaz González started playing at the age of 16 and never stop.....He played with Bruno Lomas, Eddie Grant, Steve Norman, Javier Vargas, Raimundo Amador, Carlos Segarra, Nacho Garcia Vega, Kym Mazelle, Muriel Fowler, Salvador Dominguez, Joan Bibiloni, Pepe Milan and many more.